Winner of WNEP and ReBath Northeast Contest Receives Prize Install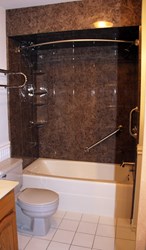 Forty Fort, PA (PRWEB) September 11, 2013
The winner of the Rub a Dub Dub, Win a ReBath Shower or Tub giveaway by ReBath Northeast and WNEP has received her prize: a brand new ReBath bathtub and surround.
Susan Zulkoski, of Wilkes-Barre, was announced as the winner of the contest in August. She and her husband Victor, met with ReBath Northeast owner and President Rich Rome to select the colors for their new bathtub and surround. A few weeks later, their materials were ready to be installed.
On Thursday, September 5, two of ReBath Northeasts professional installers arrived at Zulkoskis home ready to install her prize. She and her husband chose ReBaths Mocha colored walls in the 12 inch tile pattern, with a biscuit colored tub and brushed stainless Delta fixtures. They also chose a matching corner shower tower, a brushed stainless grab bar and a crescent shaped curtain rod.
The Zulkoskis, who also know a few things about remodeling homes, were very happy with their installation and impressed by how beautiful their new bathtub turned out.
The installers did a great job, Susan said. They cleaned while they were working and then at the end they left the area spotless. The work was done so quickly and the finished product is gorgeous!
The Zulkowskis original bathtub was a fiberglass one-piece system that was 20+ years old. Susan entered the contest because she wanted her bathroom to look more modern and updated. Now that ReBath Northeast has finished installing her bathtub replacement, she and her husband plan to remodel the rest of the bathroom.
About ReBath Northeast

ReBath Northeast is a franchise of ReBath