transcosmos Enhances Industry-University Collaboration With Rikkyo University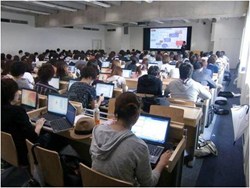 Tokyo, Japan (PRWEB) July 16, 2013
In addition to a research seminar at Rikkyo University last year, transcosmos inc. (Headquarters: Tokyo, Japan; President and COO: Masataka Okuda; TSE First Section: 9715; hereafter, transcosmos) has also begun offering a regular class on marketing research this year, as part of its industry-university collaboration with Rikkyo University since 2011.
transcosmos and College of Business at Rikkyo University have been implementing a joint effort for industry-university collaboration since September 2011. In fiscal 2012, transcosmos offered a guest lecture in the e-business class in the first half of the year, and provided seminar students with a research project to analyze real transaction data in the second half. In fiscal 2013, a professional employee of transcosmos has been appointed as a part-time lecturer, and he is contributing to human resource development in the big data era to meet the needs of the business community through efforts including practical training with new marketing research technologies and tools.
Class details for Marketing Research (Fundamentals of Marketing Research & Data Mining)

transcosmos Principal Consultant Naohiro Yamaura joined "Marketing Research" class taught by Hiroshi Sasaki, Professor of Marketing Research at Rikkyo University as a part-time lecturer, and they collaborated to conduct a new class. Mr. Yamaura covers a broad spectrum of topics, including marketing strategy, consumer behavior, social media research, and web log analysis. He also offers practical training in the field of Big Data marketing (classes are held from April to July during the spring semester, attended by 200 second year to fourth year students).
In addition, on May 16, Masayuki Hagiwara, Executive Vice President of transcosmos analytics Inc., gave instruction as a guest lecturer on marketing research trends in Japan and overseas with the theme of Next-generation Marketing Research.
After the spring semester, a research and presentation competition including practical training in Sasaki seminar will be planned, same as last year.
We received the following comments from Professor Hiroshi Sasaki: Since marketing research tools and techniques are dramatically changing, we need to provide students with new courses. Mr. Yamaura offered a practical training project to help my seminar students develop analytical skills essential in the big data era last year. We expanded the learning content to a regular class this year. In Marketing Research class, 200 students not only learn wide range of marketing research topics, but also experience cutting-edge data mining tools. The classroom is always full of enthusiastic students. I express sincere gratitude to Mr. Yamaura and transcosmos for giving us a chance to build new industry-university collaboration.


transcosmos is a registered trade name or trademark of transcosmos inc. in Japan and other countries.
Other company names and product or service names mentioned are registered trade names or trademarks of various other companies.
About transcosmos inc.

Since our establishment in 1966, we have combined superior "human resources" with the most up-to-date "technological" capabilities to enhance the competitive strength of its corporate clients by providing them with high value added and superior services. We provide overall IT outsourcing services such as Call Center Services, Business Process Outsourcing Services, and Digital Marketing Services either as standalone solution or as combined services to our corporate clients to optimize their marketing efficiencies, to expand sales, and to improve operational efficiency and reduce clients operational cost for back office and information system operations. Further, these services have been expanded beyond Japan, globally, centered in Asia. We aim to be the "Global IT Partner" of our corporate clients to provide them with high quality outsourcing services on a global scale.
Contact for news media inquiries

Inquiries from the media should be forwarded to transcosmos inc.

Public Relations & Advertising Department

Mail: pressroom(at)trans-cosmos(dot)co(dot)jp