Recsolu Announces $6 Million Series A, Led by First Analysis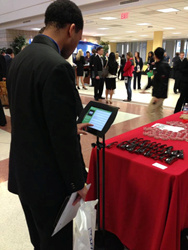 Chicago, Illinois (PRWEB) November 21, 2014
Recsolu, a provider of software-as-a-service solutions for recruiting college talent, announced today the closing of a $ 6 million Series A funding. The financing will enable Recsolu to expand its leading share in the college graduate recruiting market, as well as extend its offerings to the broader professional recruiting market. Investors include First Analysis and previous investor, Generations Capital.
Founded by Jason Weingarten and Dan Bartfield in 2008, Recsolus platform automates key choke points in the recruiting process, including collecting candidate information and resumes, marketing job openings to prospective hires, scheduling and conducting interviews, and aggregating and sharing evaluations. Recsolu is the leader in the campus, diversity, and event-based recruiting space, with a mobile solution that allows employers to seamlessly manage the entire process of recruiting talent from colleges and universities. The company offers a robust event management and scheduling platform, a candidate relationship management system, and a marketing automation platform.
This is a big day for our team and client partners, said Jason Weingarten, Co-Founder and CEO of Recsolu. Our engineers, support, product and sales teams have worked amazingly hard to help us get to this point. Our clients have been incredibly supportive in working together to provide them the tools and insights needed to perform their jobs more efficiently and effectively.
Were thrilled to add a respected firm like First Analysis to the fold, added Recsolu COO and Co-founder Dan Bartfield. We look forward to leveraging their investment and expertise to build our product, sales, and service teams and offer customers more options in the professional recruiting space.
Recsolu is based in Chicago and is growing exponentially, with a customer roster that includes more than 50 Fortune 500 companies. The Series A investment will help the company add talent to grow its platform and to service its expanding customer base.
About Recsolu

Recsolu is the leading web and mobile recruitment software and services company. Since its founding in 2008, Recsolu has established client partnerships with more than 100 major employers globally to support their talent sourcing and recruiting strategies. For more information about Recsolus suite of products and solutions, please visit http://www.recsolu.com.