Port of Hueneme Tests First Ship to Connect to Grid-Based Shore Power System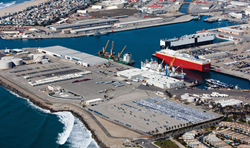 Port of Hueneme, California (PRWEB) April 06, 2014
The Port conducted its first operational and safety vessel test of the Port of Huenemes recently installed Grid-Based Shore Power system. Port crews were on hand to view this first vessel plug in by Hamburg Suds M/V Cap Pasley, carrying fresh fruit for Chiquita Brands of Charlotte, North Carolina.
The initial test of plugging in a vessel is critical to the assessing performance of this new and very high voltage shore power system. It is also vital to ensuring all trained units including ILWU and ship operators become comfortable with operating the gear. The process tests the vessels ability to synchronize with and connect to the Ports grid-based system. Hamburg Sud, Chiquita, Ports America, Southern Edison, project engineers, system developers, contractors, and port technical personnel geared up to make certain all protocols were in place and the inaugural plug-in ran safely and functioned properly.
This initial test was a success and a second major milestone for the Ports Shore Power system. The first milestone was the Ports successful load bank test in December 2013 that demonstrated the systems capability to provide a reliable, steady source of shore side power for ships at berth. With the first test, the Port will host a formal ribbon cutting ceremony on April 23, 2014 when the additional newly retrofitted vessels plug in for the first time to the Ports other two shore side power units. The ceremony will be part of the celebration of Earth Week. Port plans to host this event during Earth Week.
Green is no clich