On the Style Radar: Camille La Vie & Group USA Update Their Prom 2014 Collection With Even More Highly-Coveted Dresses to Choose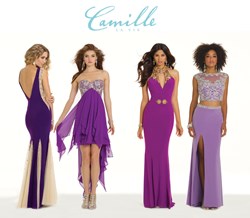 Secaucus, NJ (PRWEB) January 31, 2014
With the prom fashion season looming in high gear, Camille La Vie & Group USA recently added more must-have styles to their roster of hot party looks. In keeping with the current trends while also catering to the classic tastemakers of fashion, this one-stop fashion retailer has added more dresses in the style categories of all-over lace, two-tone palettes, two-piece gowns, illusion and a range of solid bold hues. With a balanced mix of daring looks for the more adventurous fashion spirit to the more timeless and subdued styles for the sophisticated girl at heart, Camille La Vie & Group USA has the dress destined to meet every young womans personal style needs. Prom shoppers can browse the retailers many locations throughout the nation or scour the virtual racks of their e-commerce site, camillelavie.com, to unearth their IT-dress with shoes, a clutch bag and jewelry to match.
The all-over lace trend is taking over the fashion masses this season. This look has recently commanded the runway scenes and has also been prevalently spotted amongst Tinseltowns most stylish celebrities on the red carpet, such as Louise Roe and Cate Blanchett. With its luxe and timeless fabric coupled with its playful and slightly coquettish nature, the lace look stands as an ideal choice for prom. Two-tones are also on the fashion radar for the big event. The creative use of soft colors comprised in wispy, chiffon material overlaying a muted neutral base palette procures a finished look thats equal parts elegant and sweetly alluring. Lily Rabe was recently seen at the Golden Globes in a stunning two-tone look that made the Best-Dressed list. Illusion is another popular trend seen on style A-listers like Beyonce, Rihanna and Maria Menounos. The sheer fabric combined with its ability to create a seamless, streamlined and slimming silhouette from top to bottom makes this a favorite amongst the party girl crowd. The two-piece trend is also a highly coveted style, especially after the iconic crop top became such a hit these past few seasons. With bodices ranging in lace, illusion and a varied assortment of luxe embellishments combined with long, floor-sweeping skirts in A-lines and slits, the two-piece earns its name for being a definite show-stopper. Famous sultry dames like Katy Perry, Rihanna and Karlie Kloss have contributed to this looks iconic status. Next on the style radar is the bold color trend, although this style manages to be an undoubted hit season after season. For a statement-making presence at prom, vibrant hues of bright reds, canary yellows, rich fuchsias and pops or royal blues will never fail to turn heads. And when beading and rhinestone sparkle pairs up with these color palettes, the end result is jaw-dropping glamour. Miranda Kerr, Jennifer Aniston and Hollywoods recent up-and-comer/ newly-crowned style icon Lupita Nyongo have made this trend stand out in its finest.
Camille La Vie & Group USAs president Denise Viotti says, When it comes to shopping for a special dress for an equally special event, ladies need style options! And as prom gets closer, we have made it our mission to continuously house the hottest dresses in a range of must-have trends fit for each and every girls personal fashion style needs. At Camille La Vie & Group USA, theres a special dress destined for every shopper!
About Camille La Vie & Group USA

Camille La Vie & Group USA is a one stop boutique to all things party dress chic in prom dresses, homecoming dresses, wedding dresses, social separates, day into evening dress styles, bridal, formal accessories, jewelry and shoes. They offer one of the most extensive and stylish collections of special occasion dresses that can be found under one fabulous roof! Since its inception in 1985, the companys motto of to provide customers with the latest dress fashions at an affordable price has made them a leading retailer in virtually all categories. To date, Camille La Vie & Group USA has expanded to a total of 24 stores nationwide.
In select Camille La Vie & Group USA stores, customers will discover a collection of bridal apparel including wedding dresses, bridesmaid dresses, flower girl dresses, mother of the bride dresses and guest of wedding dresses. Camille La Vie & Group USA also provides bridal alteration and consulting services. So whether your style is classic and elegant or modern and chic, Camille La Vie & Group USA will outfit stylish women of all types without breaking their bank.
If youre in a committed search to score a certain dress style, Camille La Vie & Group USA is your one-stop source for all things pretty from on-trend high to low dresses, mirror stone and chunky beaded bodices, bright and bold hues, florals and animal prints, handkerchief, godet and trumpet hemlines, subtle detailing or all over sequins, one shoulder, crisscross back or cut out silhouettes to cascading ruffles and fun, frilly poof A-line skirts in tulle, Camille La Vie & Group USAs fashion styles are seemingly endless! And the options do not just stop there. Follow Camille La Vie on Twitter at @camillelavie.