My Very First Cyber War Kit – Hacker Halted USA Bonus Track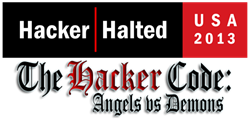 Atlanta, GA (PRWEB) August 16, 2013
Hacking used to require skill and experience in order to carry off successful attacks, but the widespread proliferation of automated hacking tools has made it possible for anyone to become a hacker. At Hacker Halted USA (September 19-21, Atlanta), an independent technologist is presenting the first cyber war kit – a collection of online hacking software and tutorials, sort of a hackers version of The Anarchist Cookbook, that could enable anyone, even complete novices, to successfully spy on peoples computers and cause other types of online mayhem.
The talk, entitled My Very First Cyber War Kit, will be presented by Samuel Snider-Held on day three of the conference (September 21). This is a proof of concept to show the risks of easily available online hacking tools, and will not be available to the general public.
For years, the security industry has warned about the growing availability of automated hacking tools, everything from Low Orbit Ion Cannon (LOIC) to rent-a-botnet services, Zeus and SpyEye, said Eric Lopez, director of conferences and events at EC-Council. Now were seeing these tools put to use by a wide range of hacking groups, from Anonymous and the Syrian Electronic Army, to organized crime and the kid next door. Sams talk is a comprehensive look at how easy it is to become a hacker – and how quickly someone without much experience can start causing real damage.
My Very First Cyber War Kit contains all the tutorials and software necessary for anybody to engage in simple cyber conflicts, said Snider-Held. The project is a single instantiation of the concept and it will not be mass-produced. My Very First Cyber War Kit demonstrates the idea that 20th century notions of geo-political power are quickly being disrupted by the exploitation of cyber vulnerability in an increasingly networked culture. Do you think you have what it takes to become a cyber warrior? The real answer might surprise you. Computer hacking effects our lives more and more as our culture becomes increasingly obsessed with information technology. By following simple examples and instructions, even you can hack into Facebook accounts, spy on someones computer, or break into blogs.
Hacker Halted USA is a three-day, three-track information security conference including 43 talks from top security researchers, organizations, independent security firms, the U.S. Army, U.S. Treasury, Facebook, Twitter, Square, RSA, Qualys, McAfees Foundstone Division, Verizon Terremark, Dell, Deloitte, Salesforce, and Penn State University. Topics covered include mobile security, the cloud, forensics, critical infrastructure attacks, malware analysis, and more. Registrations are still being accepted and anyone interested in attending is encouraged to visit the registration website or call 1-888-330-HACK.
For more information about Hacker Halted USA, visit http://www.hackerhalted.com. To view the online agenda, click here.
ABOUT EC-COUNCIL :
The International Council of E-Commerce Consultants (EC-Council) is a member-based organization that certifies individuals in various e-business and security skills. EC Council is the owner and developer of the world-famous E-Council Certified Ethical Hacker (CEH), Computer Hacking Forensics Investigator (C|HFI), Certified Security Analyst (ECSA), License Penetration Tester (LPT) programs, and various others offered in over 60 countries around the globe. These certifications are recognized worldwide and have received endorsements from various government agencies including the US Federal Government via the Montgomery GI Bill, and the US Government National Security Agency (NSA) and the Committee on National Security Systems (CNSS) certifying EC-Councils Certified Ethical Hacking (CEH), Network Security Administrator (ENSA), Computer Hacking Forensics Investigator (CHFI), Disaster Recovery Professional (EDRP), Certified Security Analyst (E|CSA) and Licensed Penetration Tester (LPT) program for meeting the 4011, 4012, 4013A, 4014, 4015 and 4016 training standards for information security professionals and most recently EC-Council has received accreditation from the American National standards Institute (ANSI).