Isas Bistro Opens with Fine Cuisine from Seasoned Chef and a New Private Events Space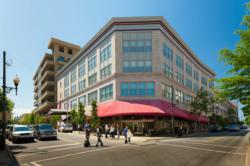 Asheville, NC (PRWEB) June 11, 2013
Centrally located in the beating heart of downtown Ashevilles thriving food, art, and shopping scene, Isas Bistro is now open on the corner of Haywood Street and Battery Park Avenue, just across the street from the bustling Woolworth Walk. The restaurant is connected to downtown Asheville's Haywood Park Hotel, which offers the largest guestrooms in Asheville.
Owners Tony Fraga and his wife Isabel (Isa) are excited to further enrich the Asheville food scene, offering a unique, ingredient-driven menu courtesy of seasoned Sous Chef Duane Fernandes. The refined yet comfortable atmosphere boasts one of the best outdoor dining patios in Asheville, as well as a light, airy dining room, and a spectacular wine cellar that doubles as an intimate, private event space.
I believe that a great dining experience centers around three key elements: great food, great service and a great environment. We are excited about how the pieces are coming together, says Tony Fraga.
Cuisine