cleverbridge Named to 2013 Chicago Business Journal's 2013 Best Places to Work List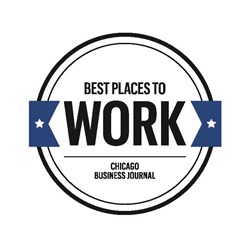 Chicago, IL (PRWEB) January 02, 2014
cleverbridge, a global full-service e-commerce provider for software and SaaS companies, announces that the company has been named to Chicago Business Journal's 2013 Best Places to Work Awards list. With 13 honorees, the list recognizes the area's leading employers those companies that go beyond the norm to foster an engaged and meaningful work environment for their employees.
In order to be considered for the list, Chicago employers must have a minimum of 20 employees, falling in three categories: Small Businesses (20-100 full-time employees), Midsize Businesses (101-500 full-time employees) and Large Businesses (more than 500 full-time employees). Companies were evaluated based on the results of an employee survey administered by Quantum Workplace. The survey evaluated team effectiveness, retention, employee alignment with company goals, trust with co-workers, individual contribution, manager effectiveness, trust in senior leaders, feeling valued, work engagement and people practices.
Unique to the Best Places to Work program, the evaluation focuses on employee engagement across the company, because it believes an engaged workforce is far more predictive of a companys success than any other measure. Engagement is the byproduct of wildly successful relationships in the workplace, said Greg Harris, CEO, Quantum Workplace. Engaged workplaces enjoy higher productivity, lower turnover, and stronger financial performance.
We are thrilled and honored to be recognized by Chicago Business Journal as one of the best places to work in Chicago, said Craig Vodnik, vice president of operations, cleverbridge. Since the beginning, we have always focused on fostering a strong company culture that ensures our employees can grow at both a personal and professional level. The Great Place to Work ranking solidifies the importance we place on our culture as a global organization.
cleverbridge was also recently named to Brill Streets 2013 list of Top 50 Employers for Gen Y Emerging Talent in Chicago and the 2013 Lead411 Technology 200 List of the fastest growing tech companies in the United States. cleverbridges German office was also named #11 on the 2013 Great Place to Work list by Great Place to Work Institute, which recognizes the top 40 IT companies in Germany with exceptional workplace cultures based on a benchmark survey.
The Chicago Business Journal's 2013 Best Places to Work Awards list is available online at http://cbridge.to/19CeX0T. To learn more about cleverbridge, please contact inquiry(at)cleverbridge(dot)com or visit http://www.cleverbridge.com.
About cleverbridge
cleverbridge is a global full-service e-commerce provider for companies that sell software and SaaS solutions. The companys flexible cloud-based platform and experienced client service drive the performance of B2C and B2B businesses around the world, enabling the complete optimization of their global online sales and marketing initiatives. Headquartered in Cologne, Germany with offices in Chicago, San Francisco, and Tokyo, cleverbridge provides a customized, multi-channel e-business solution to more than 300 international corporations like Acronis, Avira, Dell, Malwarebytes and Parallels, supporting their traditional, SaaS and subscription-based e-commerce needs. For more information, visit http://www.cleverbridge.com or the Building Keystones blog.
Related rty href="http://hotkeydigital.com/category/ecommerce/">ECommerce Press Releases