BookExpo America 2015 to Feature All About the Presidents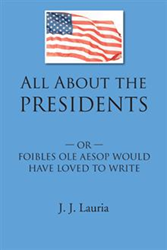 NEW YORK (PRWEB) May 02, 2015
Author J.J. Laurias 2009 collection of entertaining stories, All About the Presidents: or Foibles Ole Aesop Would Have Loved To Write (published by AuthorHouse) will be on display at the 2015 BookExpo America, which will take place at the Javits Center in New York City from Wednesday, May 27 through Friday, May 29.
In All About the Presidents, Lauria feigns seriousness in his display of Faction a combination of fact and fiction while discussing past U.S. presidents fictional foibles made to seem not only possible but also plausible. Laurias well-intentioned humor does not descend to slapstick, but rather provides a means of pressure release from the cynicism over the judgment and behavior of occupants of the nations highest political office.
Lauria attributes the fictional foibles in his book to the memories entrusted to him by a mysterious man known to him only as Hershel Foible or Al Zimer (pronounced Alzheimer). Lauria hopes Mr. Zimers accounts will entertain while simultaneously providing the barest framework of fact about past presidents, playing on the publics appetite for news about the behavior of the nations leaders.
This expos